---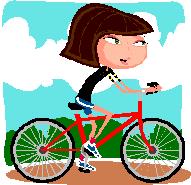 1. Summertime Sadness, Lana Del Rey - Warm up - Low gear level, picking up the pace towards the end of the song.
2. Scream, Usher - Intervals - Let's finish our warm up and start getting that heartrate up. Add a gear or two of resistance. Spend 20 seconds in each of the three positions (seated, standing run, standing climb), matching your cadence to the beat of the song. Repeat until the song is over.
3. Bangarang, Skrillex - Speed and Endurance Combo - Time to really get into our workout! With some resistance on the gears, stay seated and find a cadence of about 100 rpm. Then, speed up to 110 rpm for 15 seconds, Slow back down to 100 for 45 seconds. Repeat 2 more times for a total of 3 times through. This should really get your heart pumping!
4a. Catch My Breath, Kelly Clarkson - Endurance - Get into standing climb position and add a little more resistance. The gear should be a very small incline, just enough to give you something to push against. Spend one minute in a standing climb, with a tempo that matches the beat of the song. After one minute, switch to seated, finding a cadence of about 100 rpm. Hold here for one more minute. Then repeat, for a total of four minutes.
4b. Save the World, Swedish House Mafia - Endurance, continued - Once you finish your last minute of the previous song, add a little more resistance, slow down a little to match the beat of this song, and stand up to a standing climb again. Do one minute standing and one minute seated again. Then, take a one minute break and catch your breath.
5. Mucho Mambo, Shaft - Jumps - Stand up in standing run and get on the beat of the song. Count 8 beats and then switch to a standing climb position. Count 8 beats and switch back. Repeat for entire song.
6a. My Songs Know What you Did in the Dark, Fall Out Boy. Time for a hill! Find a gear that is a flat road, take a seat and pick up your pace. Add some resistance every thirty seconds for this entire song. Your pace will slow down as your resistance goes up, but just keep pushing against the hill.
6b. She Wolf, David Guetta. For the second half of this hill, stand up into a standing climb. Continue to add resistance every thirty seconds for the entire song. It should be a very heavy hill by the end. Take down all of the resistance for the last thirty seconds and catch your breath!
7. Animal, Neon Trees. Sprints! Add some gear so that you have just a small hill. During the chorus, speed up to 120-130 rpm for 20 seconds. Slow down and ease up on the gear to rest. Add your gear back on and repeat two more times.
8.Radioactive, Imagine Dragons. Cool down. Slow down your speed and ease off the gear. Take deep breaths and let that heart rate fall. You're done!
Original tip by my sister Laura, a certified spin instructor.
---