---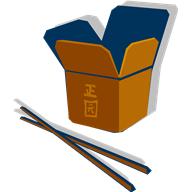 A Take-away is a godsend at the end of a long stressful week at work;
no cooking + no washing up = more time to spend with your other half.
But while a chippy tea may be convenient, it hardly spells romance!
The trick to tarting up your take-out is to change the setting. Theme your night around your food, add a few extra details and you'll take your take-out from trashy to titillating!
Ordering Mexican food? Make a jug of sangria, stick some flamenco music on spotify and eat outside to create the feeling you're eating your chimichangas in cancun not colchester!
Chinese?
Whip out the chopsticks and some kung fu action films, whether karate kid, jackie chan or kung fu panda is more your bag, there's something for all tastes! Chinese lanterns are cheap as chips (or noodles...) and can be found everywhere. Each write a wish and attach it to the lantern then light the candle and release them into the sky together. Very romantic!
Sushi?
Who can forget that scene from Sex and the City? Seving the sushi on your naked body may seem a little to out there for some, but you can reveal as much or as little as you feel confortable with (think bikini & sarong for those less brave). Just watch out for that wasabi!
Italian?
Dig out the tablecloth, some candles and recreate that magical Lady and the Tramp spaghetti scene. You'll be guaranteed a Bella Notte!
---