---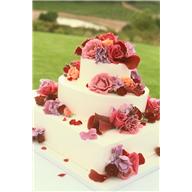 To quote Father of the Bride "A cake Franc is flour and water, my first car didn't cost $1200!"
It may be just flour and water but your wedding cake is also major focal point on your big day....and it can take a major slice out of your budget!
Faking the cake is a fab way to be frugal without your guests guessing!
Have your baker ice polystyrene blocks instead of expensive fruit cake (this is a pretty common industry cheat, so they won't think you're crazy!) They can even insert a wedge of real cake for you and hubby to make the first cut!!
Then when the cake is whisked away to be cut for your guests, the caterers can slice the less fancy (cheaper) but utterly delicious sheet cake you've got hidden in the kitchen!
A beautiful three tiered spectacle + delicious cake - crazy price tag = a recipe for wedding success!
---