---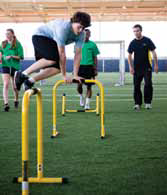 By David Kittner, Youth Fitness Guy
Last summer, I was fortunate to be invited by the New York Rangers to conduct athletic development sessions at their Youth Summer Hockey Camp at their training facility in upstate New York. During one of my visits, I met a 13-year-old girl who was there to cheer on her brother in an afternoon on-ice scrimmage. The young girl was wearing a rather large bulky brace that wrapped around her waist and thigh. After talking with her and her mother, I was told that the girl had been diagnosed with a fractured spine at L5 S1. Any guesses as to why? Yep! Overuse! The young girl had been focused on playing one sport year round for many years. As a result, she developed an overuse injury that shut her body down and prevented her from engaging in any form of physical activity. Not a great situation to be in for any young athlete (or parent, for that matter). The sad part about this story is that her injury could have been prevented.
Having kids specialize early in one sport invites the potential for overuse injuries, not to mention the physical pain and mental anguish of being injured and not being able to continue playing. It not only affects their sports and physical activity levels, but their life outside of sports as well. For mom and dad, it means repeated trips to doctors and physiotherapists, and possible time off work, added expenses and potential loss of income.
In order to prevent your child from suffering overuse injuries here are a few key points to keep in mind:
1. Encourage your child to participate in more than one sport year round, making sure there are distinct offseasons between each sporting season. These can be organized or pickup games with friends.
2. Encourage your child to be active on a daily basis with various forms of play and physical activity at school and at home.
3. Help your child develop a strong foundation of fundamental movement skills, coordination, flexibility, mobility and systemic strength. Seek out an individual in your area who is certified as a Youth Fitness and Athletic Development Specialist, someone who understands the unique sciences associated with child development and the practical means by which they must be applied to any fitness or sport-based venture. Kids are not miniature adults and should not be treated as such when it comes to athletic development/training.
Regardless of how much your child loves any one sport, make sure they get regular time away from it. It will benefit them mentally, physically, emotionally and socially, and it will create opportunities for them to experience other sports and activities and to meet new friends. In the long run, your child will become a morerounded athlete with a solid athletic foundation, enhanced fundamental movement skills and a greater sense of physical literacy not just for sports but for life. As a result, they will have a higher sense of self confidence, be a stronger and faster athlete, be less prone to injuries, and be better performers on and off the field.
Play Strong! Lifelong!
---